Private/Corporate Mysteries & Scavenger Hunts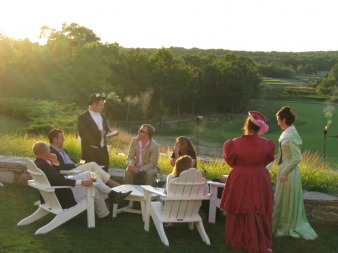 Full Time Flatfoot on 8/14/10 at Shelter Harbor Golf Club
We have entertained dozens of private and corporate parties with our unique murder mystery products. Tailored to the client, these shows can utilize your own people, should you want to put someone in the hot seat! Poisoning, shooting, strangling or stabbing, you tell us how you want it done.
The bottom line? You'll have fun! Whether the setting is late 19th century, 1920s gangster, 1940s hard boiled or present day, we span the ages to tell a timeless tale of deceit sure to keep you guessing until the end.
Past satisfied clients include:
Putnam Associates - Christmas Cocktail Murder Mystery - Boston, MA
Museum of Work & Culture -
Prohibition 1920s "Murder at the Mill" fundraiser mystery
Achievement First Providence Mayoral Academy Elementary -
Team building mystery
Ascensus College Savings -
Corporate holiday 1920s "silver screen" murder mystery
Dale Medical -
Corporate 1920s "Five Families" Formation Speakeasy
Cisco/PC Connection
- Corporate customized 3-day experience of "The Heist"
UPromise Investments -
Victorian murder mystery & 1920s murder mystery
New England Museum Association (NEMA)
- Conference murder mystery dinner
Discover Newport
- Corporate cocktail murder mystery
Old Surety Insurance
- Private 1920s speakeasy evenings
Bemis World Wide
- Corporate murder mystery and dinner
Riess-Choukas Family
- Private Halloween murder mystery
B2B Gateway.net
- Corporate scavenger hunt 2012, Speakeasy murder mystery 2013
Rhode Island Rare Disease Foundation
- 1920's themed silent auction fundraiser
Verizon Wireless
- Corporate dinner
Vention Medical
- Corporate retreat
James & Jeri Bradley
- Wedding reception, "Matrimonial Murder"
Vention Medical
- Corporate dinner party
Highfield Hall
- Fundraiser
Shelter Harbor Golf Club
- Private party
Joni & Paul Jablansky
- Private parties:
Victorian 2010
,
Roarin' Twenties 2011, "Newport's Excellent Adventure" Scavenger Hunt 2013
"Paul and I just want to thank you for being the
highlight of the weekend."
Joni Jablansky
The Friends of the Mashpee Public Library
- Fundraiser
Attleboro Ski Club
- Christmas party
Clear Channel Communications Inc.
- Corporate party
Tufts Health Care
- Corporate party
Nomads Inc.
- Travel group
Texas Association of Life and Health Insurers
- Corporate party
Met Life
- Corporate party
Towers Perrin
- Corporate party
Leisure Time Coachmen Tours
- Private party
Stage Right Broadway Tours
- Travel group
...and many more!
---
Pricing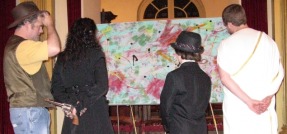 With pricing to fit any budget, we have created specialized performances for groups as small as 5 and as large as 300! Every show is completely interactive and incorporates physical clues your guests can handle, a slew of slimy suspects to question and a multimedia component that gives even the most discerning detective a satisfying experience.

---
"Beginner Bloodhound"
60-Minutes


Our most basic package: This is usually used by groups looking to get the entertainment into cocktail hour or during dessert. This 1 hour show is set either in the 1890's or the 1920's for fabulous costumes, colorful characters and opportunities for guests to interact as much, or as little, as they would like.

1-50 guests

/

$1500:

requires 5 actors

51-75 guests

/

$1750:

requires 6 actors

76-100 guests

/

$1950:

requires 7 actors

101-150 guests

/

$2100

: requires 8 actors

151 or more

/

Call
Our middle of the road package, this 90 minute event is frequently used by groups looking to have meetings, awards or other ceremonies during dinner. When dinner ends, the deaths begin! This show includes some extras not in the Amateur Hour.

- We will incorporate at no additional charge 2 of your guests as suspects. With or without their prior knowledge!

- Customized scripts to fit your specific group

- Voting cards and pencils to help keep things sorted out

- Custom certificates for participants from your group

1-50 guests

/

$1850:

requires 5 actors

51-75 guests

/

$2100:

requires 6 actors

76-100 guests

/

$2500:

requires 7 actors

101-150 guests

/

$2750:

requires 8 actors

151 or more

/

Call

"Part-time P.I."
90 Minutes

"Full Time Flatfoot"
3 Hour Mystery Experience!


Our premium package, this murder mystery is, as they "the whole enchilada!" 3 full hours of interactive intrigue, including a plethora of extras. . .

- Characters mingling during cocktail hour, spreading information, some good and some bad. You and your guests will have to decide!

- Performers dining with your guests and flitting from table to table during and in between scenes spaced through out the meal.

- Raffles, prizes. gifts, favors and more as we keep your group engaged and entertained for an entire evening.

- Games

- And options that include music, dance and songs!

1-50 guests

/

$2800

: requires 5 actors

51-75 guests

/

$3200

: requires 6 actors

76-100 guests

/

$3500

: requires 7 actors

101-150 guests

/

$3750

: requires 8 actors

151 or more

/

Call
_
Scavenger Hunts
Unique, action-packed and brain-bending, our scavenger hunts are the perfect bonding activity for families, friends and co-workers. They range from half-day to two-day events and can be customized to suit your group's interests.
Pricing dependent upon number of guests, length and customization. Email us for more specifics at
shows@newportmurdermystery.com
.