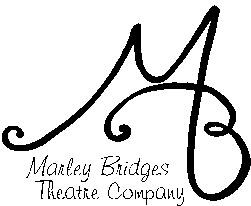 What is the Marley Bridges Theatre Company?

"suspending disbelief & spanning the ages"
GRIMES + BRADLEY = Marley Bridges
We believe that theatre is meant to be

experienced

and not just passively observed.
We engage, entertain, and educate with interactive, immersive theatre.
We are dedicated to:
B
uilding community collaboration with creative programming and interactive theatre
R
evitalizing and preserving Newport's social history through theatre and reenactments
I

nspiring future performers and artists to practice and share their talents
D

eveloping and producing original scripts written by Rhode Islanders
G

iving everyone the opportunity to play, imagine & experience the magic of make-believe
E

ducating and enriching students with performance and art workshops
S

ustaining the arts throughout Newport County and Rhode Island for future generations
Formerly known as the Beechwood Theatre Company, the Marley Bridges Theatre Company (MBTC) operates under the Beechwood Foundation, a nonprofit arts organization dedicated to fostering the arts, arts education, and historic preservation throughout Newport County. Partners-in-crime Patrick Grimes and Jessica Bradley are the heart and soul of the MBTC. They have been nomadic since leaving Bellevue A
venue and proudly collaborate with the community to create affordable and accessible theatre.
MBTC specializes in interactive, historical, and educational theatrical programming, with a forte for situational and site-specific entertainment. Its mission includes offering Rhode Islanders and visitors alike engaging and enriching affordable entertainment, as well as providing educational workshops in improvisation and acting to area schools at little or no cost. Moneys raised through performances help fund arts programs in our community - from musical instruments for struggling band programs to grants for original works in the performing arts.
Support us in our efforts to grow and perpetuate our creative programming! We appreciate and entertain any input, whether an encouraging word or testimonial, helping hand, or donation. Visit our sister website (www.MarleyBridges.org) and contact Patrick or Jessica about how you can join in the fun today. Call us at
401-324-9436
or email shows@newportmurdermystery.com. Thank you and may your imagination run wild...
Board of Directors:
DIRECTORS:
Cindy Killavey
, President
Charles Lane Cowen

, Vice President
Kristi Rood-DeAngelis

, Secretary
C.C. Ice

, Treasurer

MEMBERS:
Jessica Bradley Chace, Ex officio
Jill Grimes
Patrick Grimes, Ex officio

Tom Holz
Jim Killavey
Community Collaborators:
Architect's Inn and Inn Bliss
East Bay Met School Arts Advisory
Emmanuel Church
Newport Art Museum & Art Association
Photographer Eric Hovermale (www.erichovermale.com)
Administrative Staff & Actors:
Jessica Bradley Chace


Creative Producer

/Mystery Engineer


​Jessica Bradley Chace

earned her B.A. in Theatre from Michigan State University. Following graduation, she became a member of the Beechwood Theatre Company and acted at Astors' Beechwood Mansion for four years until its closing in 2010.

She became the Managing Director of the Beechwood Foundation in her third season and is now the Creative Producer of the MBTC.

Improvisational theatre is Jessica's favorite form of performance art and

s

he has trained with Second City, ImprovOlympic and Annoyance Theatre in Chicago. Jessica has been the Artistic Director of Artists' Exchange's summer One Act Play Festival in Cranston, and also works on productions for The Gamm Theatre in Warwick.

---

Charles Lane Cowen


Associate Director/Mystery Engineer

Charles Lane Cowen

is Associate Director for the Marley Bridges Theatre Company and has been performing with the group since 2008. He has worked as an actor and director around the country at theatres such as the Colorado Shakespeare Festival, the Texas Shakespeare Festival, The Greenbrier Valley Theatre in Lewisburg, WV, Jedlicka Performing Arts Center in Chicago, and Ridgeville Shakespeare in Chicago. Most recently he was seen as Master Page in "The Merry Wives of Windsor" as well as a featured role in the new work "Never Have I Ever the Musical" at Chicago's Second City Theatre. In addition to acting Charles has directed and adapted many works and particularly enjoys building and performing with puppets. Charles holds a B.A. in Drama from the University of Dallas. When he's not acting he's serving a mean cup of espresso at Empire Tea and Coffee in Newport.

---

Patrick Grimes


Artistic Director/

Mystery Engineer




Patrick Grimes

holds a degree in Acting from the University of Northern Colorado. Hired by the Astors' Beechwood Mansion as a summer cast member portraying John Jacob Astor IV in 1996, Patrick fell in love with Newport and the rich social history that abounds here. Following 4 years of work with Beechwood, Patrick moved to Portland Oregon where he and a group of enthusiastic visionaries started a small film production company. One year later, he was offered a returing position with the Beechwood Theatre Comany and moved across the nation once more. After Beechwood closed its doors to the public in 2010, Patrick and Jessica refused to let the theatre company die. In 2010, Patrick directed

Rosencrantz and Guildenstern are Dead

and in 2011 Picasso at the Lapin Agile for the Salve Regina Theatre Department at the historic Casino Theatre. He is a veteran of several professional improvisational theatre troupes, and has a passion for the unscripted.

---

Nikki Lawrence
Music Director/Performer

Nikki Lawrence is happy to be a member of the Marley Bridges Theatre Company. She holds a B.A. in vocal performance from SUNY Geneseo and an M.A. in expressive arts therapy and mental health counseling from Lesley University. Some of her favorite roles include Carmen from Carmen, Magda from The Consul, Mary Flynn from Merrily We Roll Along, Golde from Fiddler on the Roof, and Hucklebee from The Fantasticks.

---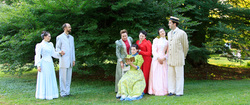 ---
Donate to our Annual Fund!

Marley Bridges is operated by the Beechwood Foundation, the 501(c)3 nonprofit arts organization dedicated to fostering the arts, arts education, and historic preservation throughout Newport County. Your tax-deductible donation will support the Beechwood Foundation's perpetuity, which in turn will allow the MBTC to continue producing its year-round affordable programming and special events. If you'd like to make a gift, please email Artistic Director Patrick Grimes at
patrick@marleybridges.org
.
Thank you for your generosity and support!